Hudson Bay Spas are engineered to provide the power and performance of a 220V spa, the convenience and reduced installation costs of a plug-in spa without sacrificing any of the amenities, at an affordable price.
Thinking about buying a Plug and Play Hot Tub? Read this article to see if a plug and play hot tub is right for you!
THE JETS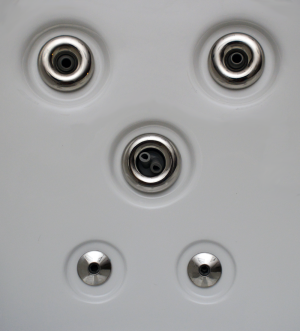 Hudson Bay Spas combine the convenience of plug-in spas with the comfortable seating and high jet counts in full-sized acrylic spas that until now were only available in their 220V counterparts. Engineered with the right jets in the right locations, seating areas combine rotary jets that swirl powerful streams of warm water in a wide path that are rotated to control the power, directional jets that are easily moved to target specific areas and turn to control the intensity, fixed jets that shoot intense 'beams' of warm hydrotherapy, and neck and shoulder jets that are located above the water line to deliver a vigorous massage to the neck and shoulders without excessive splash-out.
THE LIGHTS
Hudson Bay Spas incorporate the amenities you want with lighting features that include a multi-colored LED light with additional lighting features.

Smaller models have a back-lit waterfall, larger models are equipped with perimeter lighting.